Facing Job Challenges? Follow this 5 Steps NOW!
Posted by Jorge Figueroa on Tuesday, April 14, 2020 at 11:00 AM
By Jorge Figueroa / April 14, 2020
Comment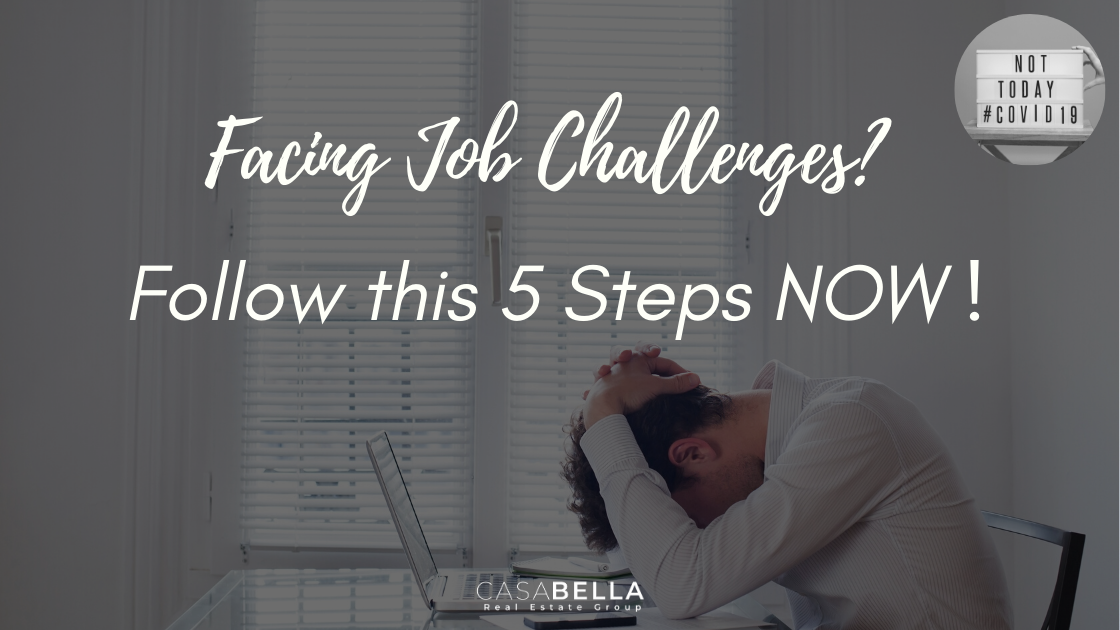 ---
One of the most common concerns our past, current, and future clients have is on how the changes in their jobs can affect their mortgage or real estate transactions.
The reality is that some people have the option to work from home, but some others don't have jobs that allows that and are being sent home.
Are you facing a job loss or disruption?
Even though these are unprecedented times, there are some resources available for you during this process.
By the way, if you are a homeowner and haven't seen this yet, here is an article we wrote for Homeowners:
Covid 19: Resources for Homeowners
; where you can find links to available help with your mortgage.
---
Facing Job Challenges? Follow this 5 Steps NOW!
To help you out, we did a research and came up with 5 simple, but important, steps you should follow NOW if you are facing job challenges with this crisis. If this is not you, feel free to share with someone who does. Lets help each other!
1. Understand your Job Status - Layoff or furlough?
Theres a lot of confusion with a word we are hearing everywhere: Furlough, and that's the starter for our list. There's differences between the two. The Movement Blog made this distinctions:
What is a layoff?

A layoff involves terminating an employee during a period when their position is no longer necessary. It's different from being "fired," as it's not reflective of the employee's quality of work, nor is it the fault of the employee that the work has dried up. If there are no plans to rehire the laid-off employee when things pick up again, it's considered a permanent layoff. If the business expects to rehire employees when things get back to normal, it's regarded as a temporary layoff.

What is a furlough?

In simple terms, a furlough happens when an employer seeks to retain staff that they can't afford to keep on, but they don't want to lay them off permanently. Once the work resumes, their jobs return.

Surprisingly, while furloughed employees are not fully "terminated," they're still eligible for unemployment. Then, once the employer's business reopens, furloughed employees can return to work.

Let's look at some ways furloughs differ from layoffs:

Employees who are laid off should not expect to return to their job. But furloughed employees are often given a specific business condition or a particular date when they can expect to return to work, if the position still exists. For many furloughed during the COVID-19 emergency, a return date couldn't be immediately communicated, but employees may have been told that they could return "when the stay-at-home order is lifted."

Employers are no longer responsible for supplementing the health benefits of laid-off employees who must find health insurance elsewhere or go without. Furloughed employees, on the other hand, may be able to keep their health and life insurance benefits.

You can read more at: Movement Blog

It's important that you are aware of your job status, as it will impact your rights and assistance available during the crisis. That leads us to our second step:
---
2. Learn your rights and offerings
Depending on your job status, there are specific rights and offerings available for you. Do your research!
* What you qualify for?
* What are your options for health insurance?
* What special concessions you are entitled to?
* What can you do with your Mortgage?
* What are your alternatives for other loans and bills?
Kelley Long, a member of the financial education advocates committee at the American Institute of CPAs, shared with the The Washington Post:
"Call every single one of your bills and ask them what they have to offer people who are experiencing a temporary reduction in income," she said. "Take notes and ask about any fees, additional interest, and whether they report any postponed payments to credit bureaus."
The more you know, the better you can plan, and the more you can benefit from it. At the end, those are your rights or what they are offering to you!
Once you know your rights, it's time to apply for what you qualify.
---
3. Apply for Assistance
Sometimes we feel that applying for assistance is a bad thing, but it's not. You deserve to be helped when needed. One of them is unemployment benefits.
As per The Washington Post, "more than 10 million Americans applied for jobless benefits in March, though experts say the real number of unemployed is higher because many people haven't been able to apply for assistance in their states." Most economists anticipate the highest unemployment in decades.
What resources are available for you?
To learn more on unemployment, please visit the official website for the Department of Labor: https://www.dol.gov/coronavirus.
For Florida specifics, visit: http://www.floridajobs.org/Reemployment-Assistance-Service-Center.
For Counties specifics, here are the links for the 4 counties in Orlando Florida:
There are programs for all the USA residents, for Florida residents, each County has their own assistance, communities, local organizations, etc...
Feel free to do your research and apply.
---
4. Open your mind to change some habits
It's in times of need when we realize how much we spend in things that are optional.
If you have not do so, please make a list of your monthly expenses and assign priorities. This will give you a clear roadmap for what you really need, essentials for you and your family, and what things can wait until things improve in general.
* What are those paid monthly subscriptions you can stop for now?
* What about those extra entertainment expenses you are not using right now?
Check your bank account and credit card statements today, you'll be surprised of how much expenses you can take a break of and, who knows, cut forever.
---
5. Look for new opportunities, temporary or long term. What about a career change?
You may not be able to get work similar to your old job, but there are lots of companies hiring in "essential" fields, including grocery and drugstores, order fulfillment and delivery drivers.
When our family needs roof and food, we do whatever it takes. Right?
The website ClickOrlando.com shared that Orlando is seeing strong demand for sales representatives' skills. Employers in the industry posted 144 new jobs over the past week and 732 new jobs in the last month, more than for any other job category in the area, according to ZipRecruiter, a leading online employment marketplace.
Also, they said Amazon hiring additional 75,000 workers to keep up with coronavirus demand, they already hired 100,000. If you're interested in applying, go to amazon.com/jobs now.
This might be an opportunity for you to explore new fields, learn new skills and, who knows, change your career forever.
Be open to take a look and don't feel afraid to go for it.
---
BONUS STEP
Seek for emotional / mental help, when needed...
One extra step, but the most important of all, is to check your emotional health. This is A LOT for all us! Don't feel bad about having all these emotions all over. However, don't stay there. There's help for us.
Feel free to contact your health insurance help line, talk to a friend or family member, call your nearest church or any local community organizations, or search online for professional advice.
Here are some additional resources available right now.
When you click on the subjects, it will take you directly to the main source:
Mental Health | Florida Department of Health COVID-19
Stress and Coping, from the Centers for Disease Control and Prevention
Emotional Wellbeing During the COVID-19 Outbreak, from The National Suicide Prevention Lifeline
COVID-19: Emotional support resources, from Optum
COVID-19 and your mental health, from Mayo Clinic
---
At Casa Bella Real Estate Group we understand what you are going through, and we are available to connect you with the resources you need to help you during this crisis. We are family!
---
---